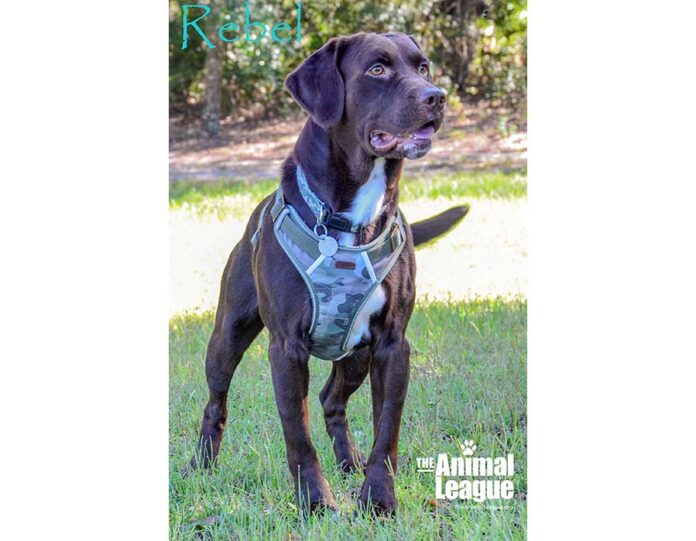 submitted by the Animal League
Rebel is a handsome 2-year-old Chocolate Labrador Retriever blend weighing in around 60 pounds. He is a sweet, playful and friendly boy with a good amount of energy. He gets along well with other dogs and would do well with another friendly doggie or would love to have your attention all to himself. If you have a backyard that he can run around in and play with you in, he would be so delighted! He absolutely loves his toys and is simply adorable when he carries around his blankie. Rebel is currently being treated for heartworms, but he is very much adoptable and loveable. He loves all people and is great with children and would love a family of his very own that would love him and spend time with him.
All our pets are up to date on vaccines and treatments, spayed or neutered, and come with a registered microchip. For additional information please contact our adoptions team at [email protected]. The Animal League is a 501(c)(3) non-profit organization serving the community since 1988. Please visit our website,www.theanimalleague.org, to learn more about us. Thank you for considering a rescue pet, the very best breed.
MEET YOUR BEST FRIEND!
Come make a new, furry friend! We are located at 4648 Baptist Island Road in Groveland. The Animal League Adoption Center is currently open by appointment only. Visit our website, www.theanimalleague.org, to view our adoptable pets and to fill out an application. See you soon!
JOIN OUR TEAM!
Would you like to receive lots of love and kisses from warm noses? If so, please consider becoming a volunteer! We have a multitude of positions available including Freedom Rides, Cat Cuddling, Dog Walking, Adoptions, and more. All it takes is a few hours a month to help save lives! Get started by filling out your volunteer application today atwww.theanimalleague.org/volunteer-opportunities/
LOOKING FOR A VET?
The Animal League Wellness Center provides affordable spay/neuter, vaccinations, flea, tick and heartworm preventatives, and wellness services. Conveniently located at 32721 Radio Road in Leesburg, FL The Animal League Wellness Center is the best option for keeping your best friend healthy and happy (and your wallet, too!). Visit www.animalleaguewellness.org for more information.
LOOKING FOR A DEAL?
Head on over to the South Lake Animal League Thrift shop in Downtown Clermont! Support a good cause while shopping for furniture, decor, clothes, books, electronics, and more!