Article by Grant Mollett, ERHS Senior Girls' Cross Country Coach and Teacher
Photos contributed by Mr. David Worthington, ERHS Teacher
August 8, 2023
The East Ridge High School girls' cross country team's official practices began on Monday, July 31, 2023. The runners have just under two weeks of practice to get themselves ready for their first cross-country meet of the 2023 season. East Ridge's summer program was a huge success, as participation and efforts were extremely high! Those efforts were made in order to prepare for the challenges of daily afternoon practices and competitive meets.
Last year the Knights had their most successful season in the school's twenty-one-year history. The girls' team earned the school its first district title by winning the Class 4A District 2 Championships last October. Additionally, the girls' team advanced to the regional meet – just the seventh team in the school's history to do so. Their fifth-place team finish at the Class 4A Region 1 Championships last season qualified the team for the Class 4A State Championships – just the second team in the school's history to do so. The Knights finished fifteenth out of thirty-two state-qualified teams last year. As successful as last season was for the Knights, they look to charge ahead this season by repeating as district champions and putting themselves in contention for a regional and state title.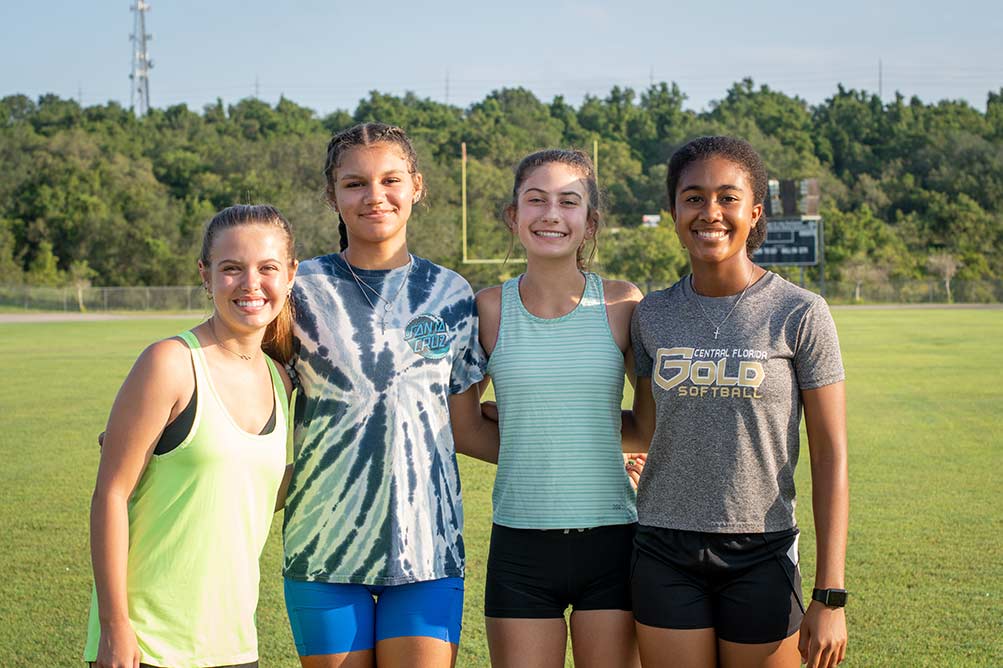 Leading the Knights' charge into the upcoming season is a core group of returning underclass athletes! Junior Hanna Warren and sophomores Veronica Peterson, Rhyen Foley, and Adriana Mustin have put forth an unprecedented level of effort into their summer conditioning in order to help raise the bar for this season's team. Warren, last season's recipient of the team's breakthrough performance award, recorded the second fastest 5K time in the school's history with her performance at the state championships last year! Peterson, last season's recipient of the team's MVP award, recorded the fastest 5K time in the school's history with her performance at the regional championships last year! Foley and Mustin, who were major contributors to the team's successes last season as freshmen, will be even greater contributors to the team this upcoming season as sophomores!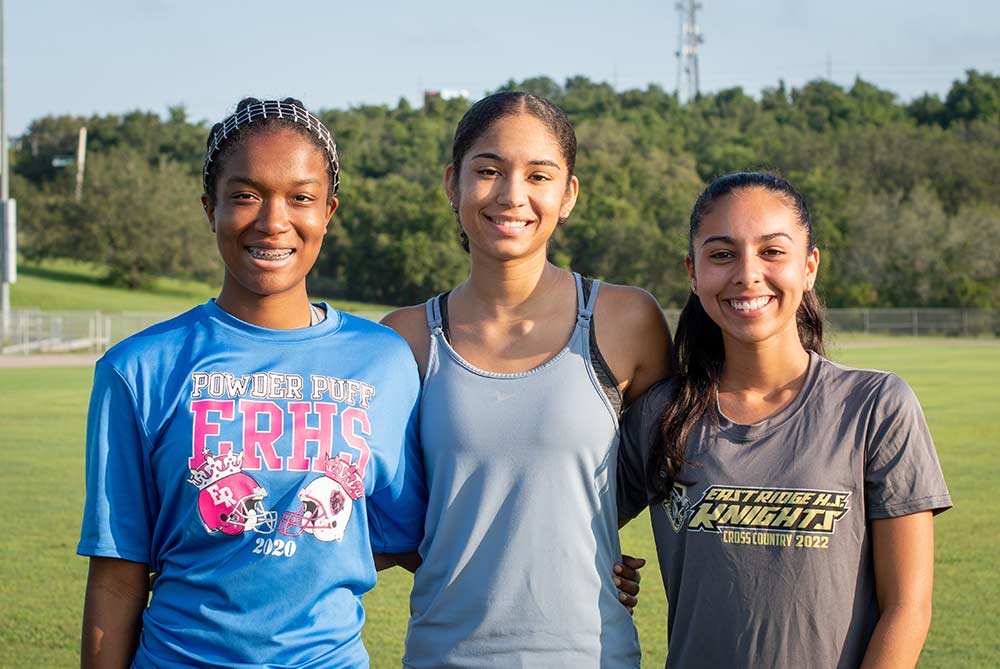 This core group of underclassmen will be joined by a cast of athletes who have also been training hard this summer. Seniors Lina Maldonado and Karlie Saint Lot have worked hard throughout the summer, and seek to help push the team to new levels. Other returning seniors include Sarah Tingler, Kayden Page, and Brittni Faber.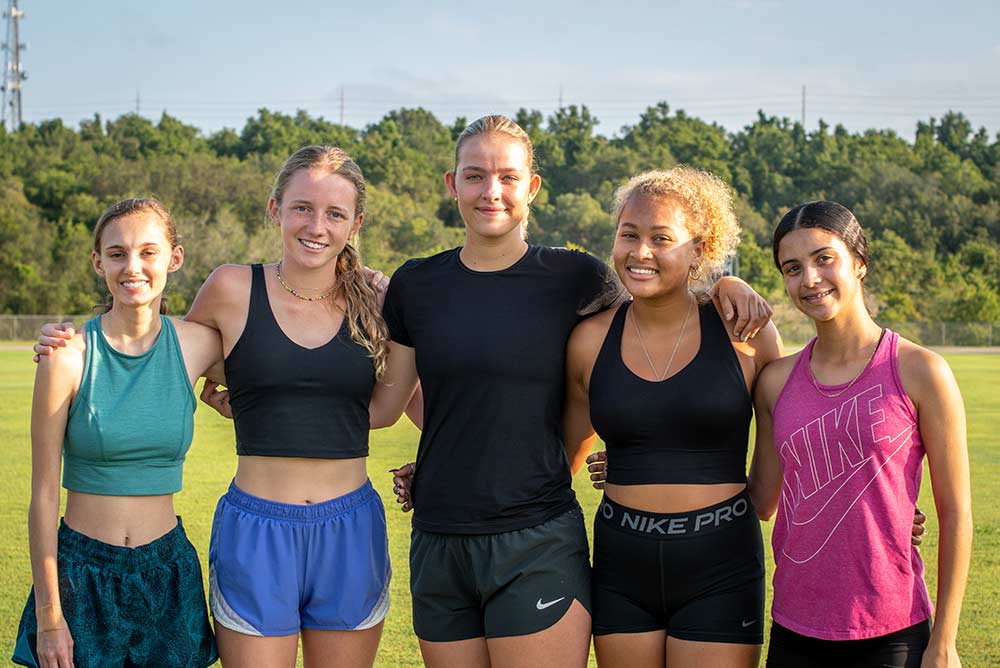 The returning juniors are a talented class of athletes including Hanna Warren, J'Mariana Douglas, Neely Lugo, Madi McCormack, and Isabella Stuemke. This season's sophomore class is equally as impressive and will include Veronica Peterson, Rhyen Foley, Adriana Mustin, and Shane George.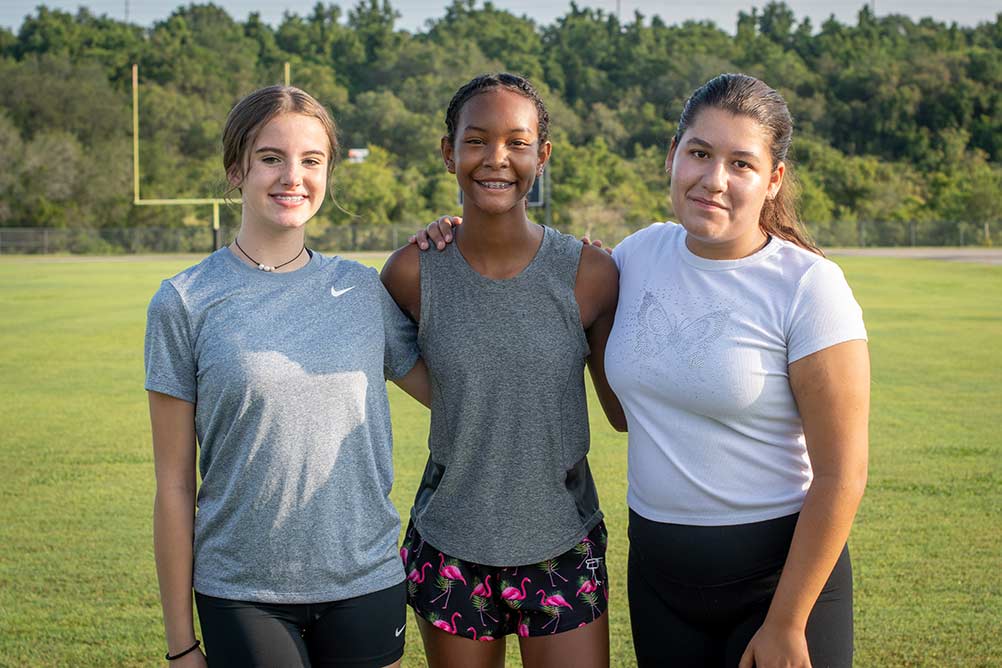 Freshman Taylor Walker, who has also worked tirelessly this summer in preparation for her debut as a Knight, will be joined by other freshmen, including Nicolly Silva and Lexi Whitehead. This season the Knights will also have an exchange student on the team. Junior Bianca Brauti-Heidemann, from Norway, will be joining the Knights in their endeavor to raise the bar this season.
This season the East Ridge Knights will once again compete in Class 4A Region 1 District 2. Like last season, the top eight of nineteen total teams will advance from the district meet to the regional meet this season. Additionally, the top three individual runners who are unattached from qualifying teams will advance to the regional meet. District 2 has the same nineteen teams this season as it did last season. The other teams in the district will include Apopka, Deland, Dr. Phillips, Evans, Hagerty, Lake Brantley, Lake Howell, Lake Mary, Ocoee, Olympia, Oviedo, Seminole (Sanford), South Lake, Spruce Creek, University (Orange City), Wekiva, West Orange, and Windermere.
The East Ridge High School boys and girls cross country teams are also involved in a fundraiser this season. Please check out our fundraiser webpage by clicking here to see our fundraising goal and progress. Our fundraiser is managed by Vertical Raise, and if you'd like to make a donation, you can do so at our fundraiser webpage. Your donations will go to the team's travel expenses, meet registration fees, team apparel, and other costs for the team this season.
The Knights will compete in a preseason meet on Saturday, August 19 at 7:15 AM (varsity boys race is first) at the National Training Center in Clermont. See below for the most current cross-country season schedule.
Photos contributed by Mr. David Worthington, ERHS Teacher
2023 CROSS COUNTRY SCHEDULE
Day/Date
Time(s)
Opponent/Event
Location

Sat. August 19, 2023

7:15 AM

FCA Preseason Invitational

National Training Center: Clermont, Fl

Sat. August 26, 2023

8:00 AM

Whispering Pines Invitational

Whispering Pines Park: Inverness, Fl

Sat. September 2, 2023

7:30 AM

Deland Invitational XC Meet

Sperling Sports Complex: Deland, Fl

Sat. September 9, 2023

7:30 AM

Hawks on the Hill Invitational

Lake Minneola High School: Minneola, Fl

Sat. September 16, 2023

8:00 AM

Savannah & David Memorial Meet

Spruce Creek High School: Port Orange, Fl

Sat. September 23, 2023

7:15 AM

West Orange Invitational

West Orange High School: Winter Garden, Fl

Sat. September 30, 2023

7:40 AM

FSU Invite (Pre-State)

Apalachee Regional Park: Tallahassee, Fl

Sat. October 7, 2023

8:00 AM

SSG Hammond Invitational

East Ridge High School: Clermont, Fl

Sat. October 21, 2023

8:00 AM

Lake-Sumter County Championships

East Ridge High School: Clermont, Fl

Sat. October 28, 2023

TBD

Wildwood Last Chance Meet

Wildwood High School: Wildwood, Fl

TBD

TBD

FHSAA District 2 Championships

TBD

TBD

TBD

FHSAA Region 1 Championships

TBD

Fri. November 17, 2023

TBD

FHSAA Class 4A State Championships

Apalachee Park: Tallahassee, Fl